English Peppermint Xylitol Gum: 50g Mighty Box (Min order 4)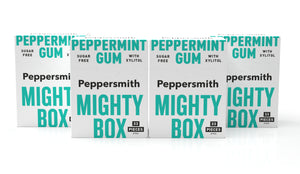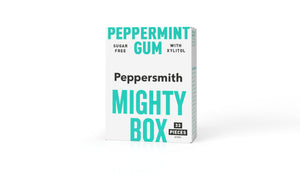 Product image 1

Product image 2

Sugar free gum sweetened with 100% xylitol, a naturally derived ingredient which helps keep teeth healthy. Flavoured with English peppermint from Hampshire. Each mighty box contains approximately 33 pieces of gum, and each piece of gum contains 1g of xylitol.
INGREDIENTS
Xylitol, Gum Base, Peppermint Oil, Natural Menthol, Natural Mint, Gum Arabic, Lecithin, Vegetable Glyercol, Carnauba Wax
Also, may contain traces of soya lecithin.

NUTRITIONALS
Per 100g, Kcal: 171, Fat: 0.3g (of which saturates: 0g), Carbohydrate: 68g, of which sugars: 0g, Protein: 0g, Salt: 0g
Delivery & Returns
You'll be glad to know that we offer free UK delivery on orders over £20. For orders under £20 there's a small £0.99 charge. If you do want to opt for express shipping (1-2 working days) you can do this at the checkout.
eGift cards are delivered to your email inbox - with no delivery charge incurred. Note that these can't be returned.
If, for any reason you want to send your Peppersmith back, we do accept returns within 30 days of delivery. Just send us an email to let us know you want to return your order, then pop it in the post to: Peppersmith Returns, Codestorm, Unit 2, Navigation Drive, Hurst Business Park, Dudley, West Midlands, DY5 1UT.
Reviews