Peppersmith for Dentists
Are you a dentist? Would you like to stock Peppersmith in your practice? Find out more below.
About Peppersmith
We sweeten our mints and gum with only 100% plant based xylitol. Xylitol keeps teeth healthy by clearing away the bacteria in the mouth by up to 90%. It also makes it harder for plaque to stick to teeth and it neutralises the acids in the mouth.
Or, if you prefer watching telly, click the blue play button for a short video.
Find out more about the science behind xylitol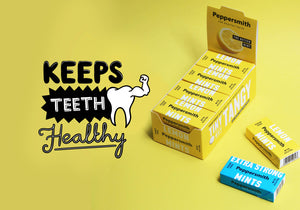 Stock us in your practice